Posture 3: THE 120° SITTING
Another alternative sitting posture that is healthy to our body is when the angle between the spine and thigh is 120° (like riding a horse). Sitting at 120° makes our spine automatically in the upright position and there is no need for lumbar support. Addition advantages of 120° sitting, it prevents us from hunching our shoulders forward to do our work and helps us to stand up with ease. Changing of postures from 120° sitting to standing is easy, creating more body movements during work.
The Liveable Office concept allows the 120° sitting position with the support of height adjustable table, and sit-to-stand chair or lean stool. Our sit-to-stand chair comes with waterfall front seat edge that can support 120° sitting. The waterfall front seat is smooth enough to provide a comfortable sitting and the chair will not be sliding backward. When you are in 120° sitting position, set the table surface to your elbow height, place your stuffs closer to front edge of the table and avoid hunching forward to work.
The 120° sitting with height adjustable table and sit-to-stand chair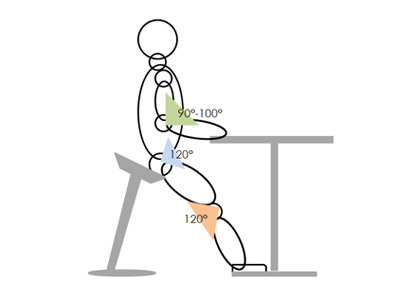 The 120° sitting with height adjustable table and lean stool
It is healthy work habits to alternate our working postures between the 120° sitting, the stand and the sit with duration of 30 minutes for each posture. Our body deserves a better working environment for better future. Today's practice determines tomorrow's health. Let's stay healthy in workplace with the right working postures start from today!